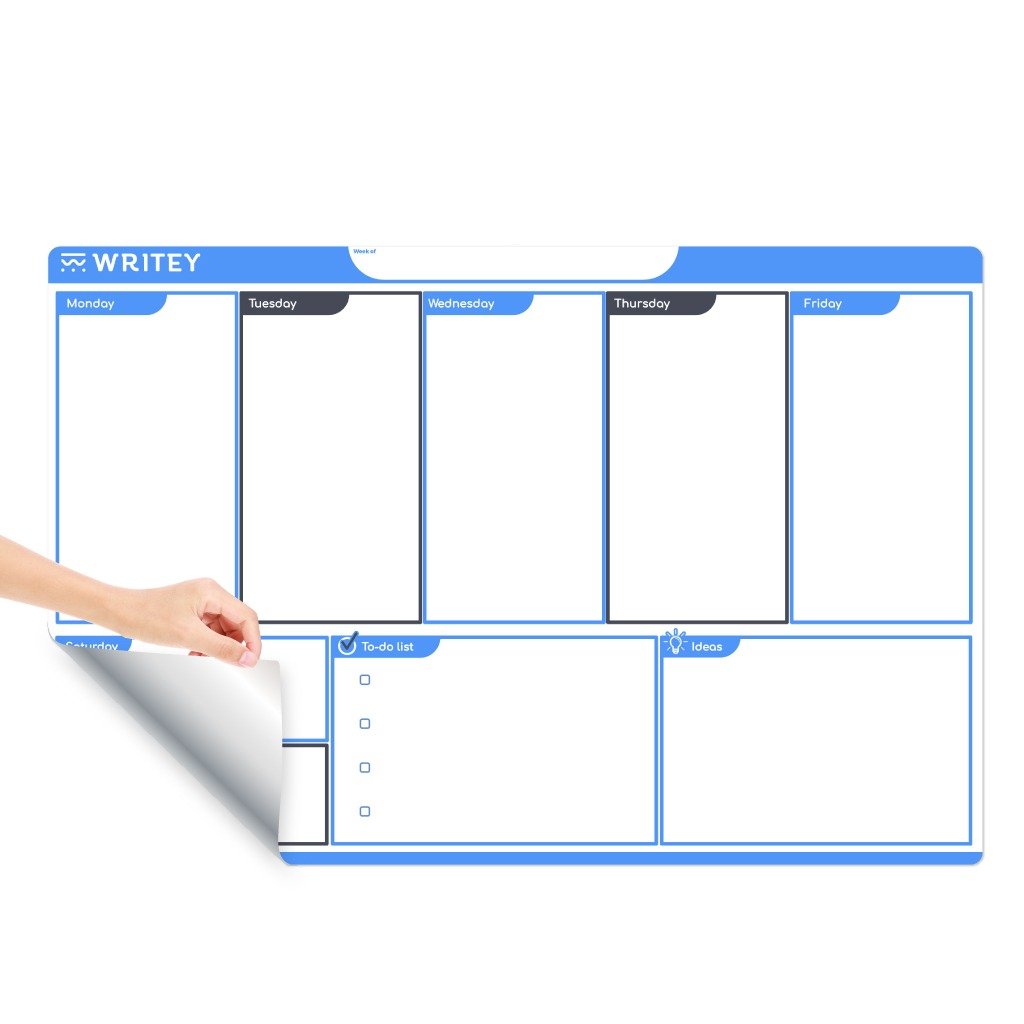 Premium Planners
Restickable calendar + marker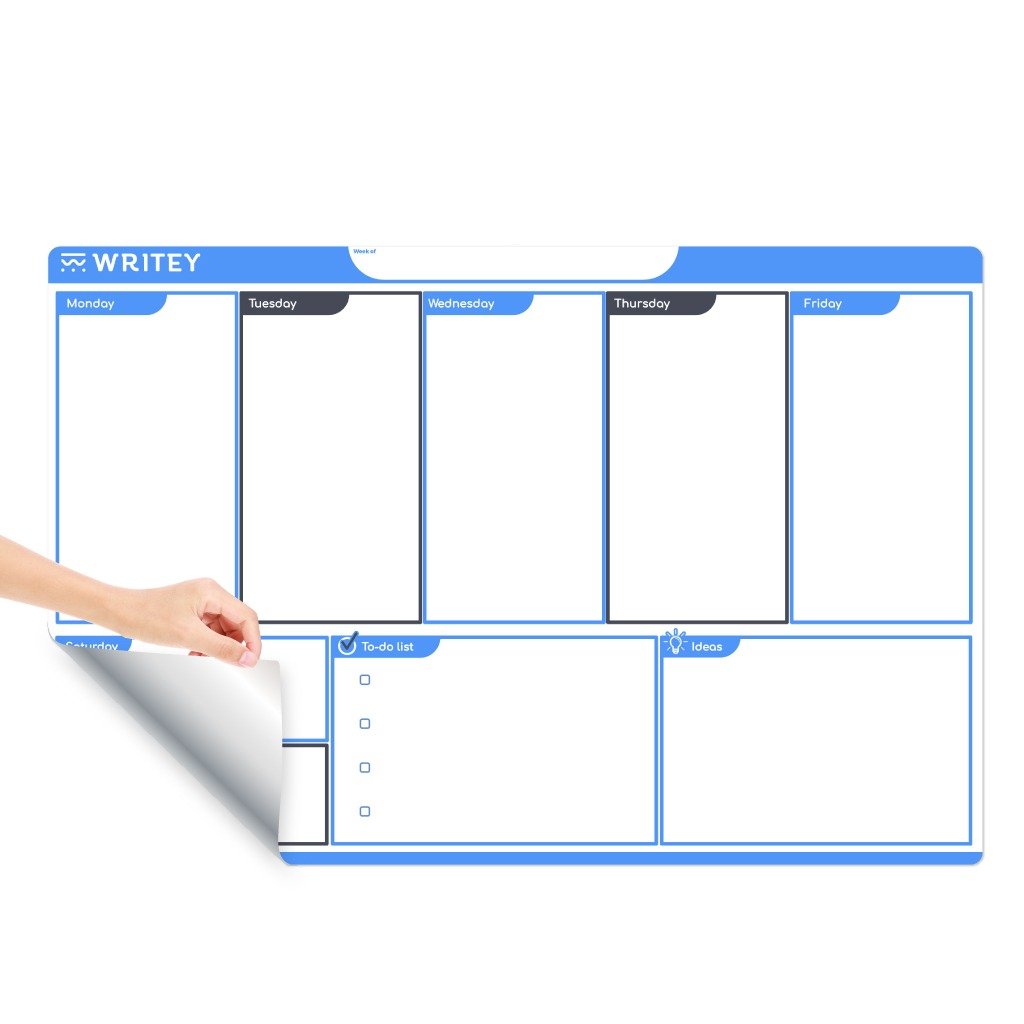 Apply Instantly
Just peel and stick your calendar in any location. No tools. No air bubbles. No residue.

Restickable Adhesive Backing
If and when you want to remove your whiteboard, simply peel it down and slap it on another smooth surface.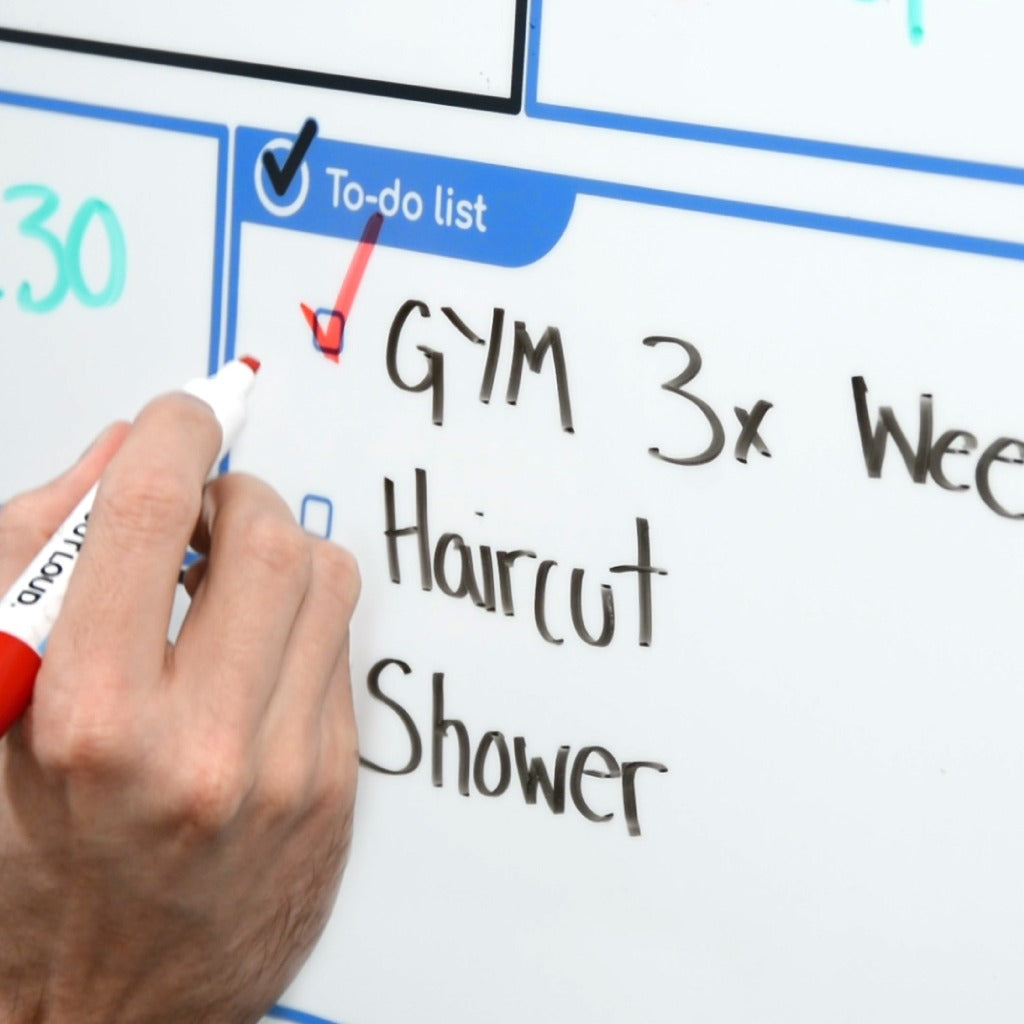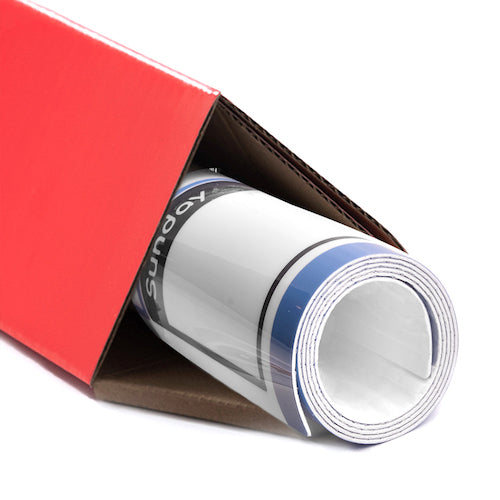 details
Textured walls? No Problem.
You will always have a smooth writing surface! The thin PE foam layer between the whiteboard surface and adhesive backing acts as a cushion for walls with heavy texturing.

Stain Proof
Use any dry erase marker, it will erase every time.

Crease Resistant
With the ultra-flexible foam layer this whiteboard doesn't turn into a giant sticker ball if it sticks to itself, plus it's rollable!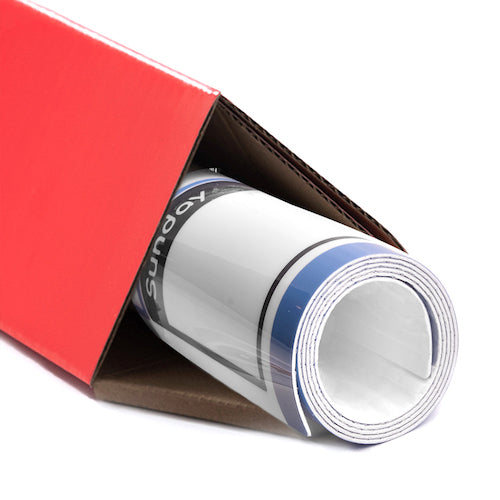 Get Organised
Stick where you want
Write what you need to
Remove when you need to
Roll up for storage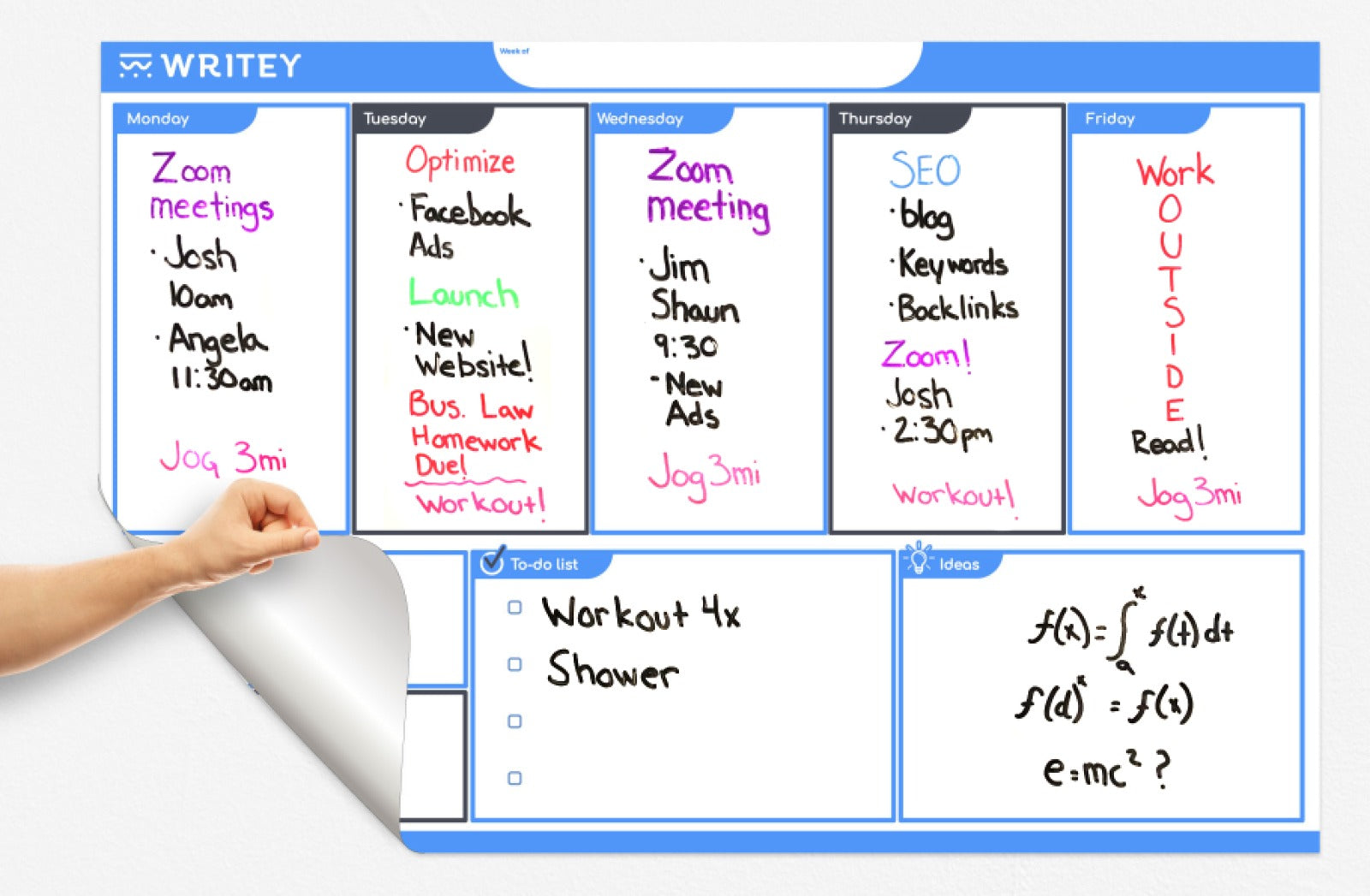 Get Productive
"I don't need a calendar, I've got a smartphone" It's been proven that people who physically write reminders also improve their memory!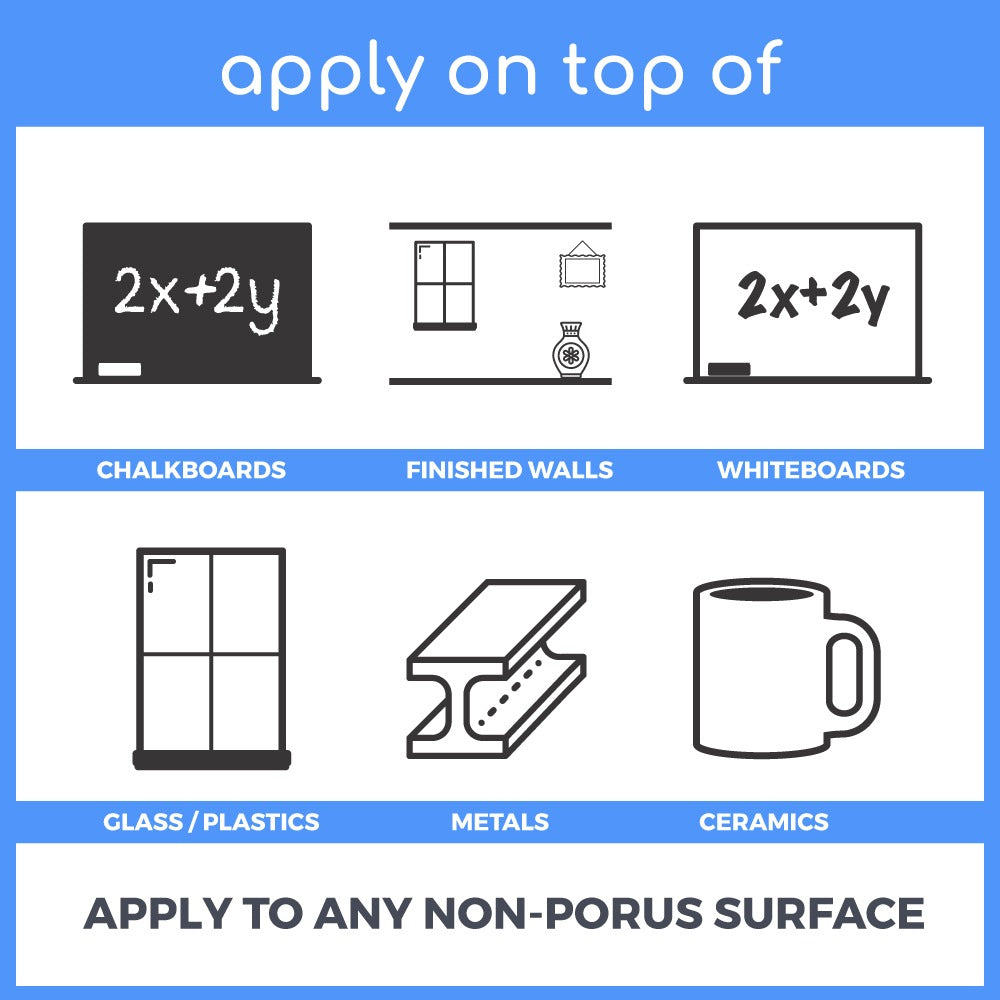 Writeyboard has the perfect stick on whiteboards in a range of sizes to suit all home, office and school needs. We have the best selection of whiteboard sheets, each available in matte, transparent and matte black, along with weekly planners.
Wall-mounted whiteboards allow you to make use of unused wall space, with custom sizes also available to fit any wall size. Check out our great range of whiteboards for walls, we know you'll find just what you've been searching for!
Our wall-mounted whiteboards are restickable wonders
Once its been applied, our premium wall mounted whiteboards can be removed easily and reapplied elsewhere. This makes it perfect for seminars or meetings, enabling you to take the brainstorming session back to the office quickly and easily. This restickable value for money is also perfect for kids' bedrooms, schools, and just about anywhere you need a large, portable writing or drawing area.
A whiteboard for your walls in an easy to apply roll
Just like a roll of wallpaper, applying a Writeyboard to your wall is super simple. You don't need any special equipment and it takes just a couple of minutes and a steady hand to have the perfect writing and drawing surface. The best part of Writeyboard is its simplicity and ease of use, making it the perfect alternative to fixed whiteboards that require drilling holes and mounting with screws.
Entire walls, store-fronts, signs, meeting rooms, sporting clubs, lecture halls, the Writeyboard is a whiteboard that has been designed to go where you need it. Some offices exclusively use the Writeyboard for coffee orders and banter. For others, the Writeyboard takes up an entire wall and is used to plot out workflows or canvas new ideas in important meetings. But many use it for both.That's because the Writeyboard works great for communal use. The Whiteboard surface allows for a quick erase that can quickly transform a room for coffee orders into the ideal setting for an important meeting. But ultimately the Writeyboard's uses are limited only by your own creativity. No matter how obscure the setting you dream up for your whiteboard, our team are always happy to work with you to apply one for your space. The process is always quick and easy and won't cause any disruption to your work routine.
Unleash your creative with Writeyboard
Writing, drawing - we don't get to do this as often as we used to. But everyone knows it's such an important part of development and a great way to discover new ideas. Our whiteboard markers are bright, in a range of colours that you just can't help but try. The whiteboard encourages people to step away from their computers to just draw and explore.